Welcome To


Bruce P. Frederick, CPA, P.C.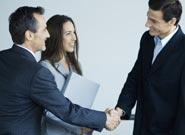 At Bruce P. Frederick, CPA, P.C., the careful management of your finances is our top priority. We pride ourselves on giving you personalized and thorough service that meets your business or individual needs.
1120 clients have very different accounting requirements than individuals. While tax planning is important, business owners need current information to manage their businesses. Our role is imperative and informative. Bruce P. Frederick, P.C. concentrates on increasing our 1120 customer's success. We provide services to help you plan your first day, accurately track revenue and receivables, identify key performance indicators, and minimize your tax liability.
Business tax planning and preparation - In many cases, valuable tax deductions can be lost by simple clerical errors. We work with our clients to establish tax strategies, and accounting methods, early in our relationship to ensure a reduction of your taxes.
Employee benefits audits – For companies with 100 or more participants in their benefit plans, we ensure our clients are compliant with federal mandates through yearly employee benefits audits.
Our Commitment
"Ever since we began in 1986, we have served every client with respect, concern, care, and due diligence. We combine experience and resources with a personal touch. Our clients come back to us year after year because they know they are in good hands. We have worked hard to develop long-term relationships.
"It is our objective to provide a full range of financial services to our clients as they pursue their goals to grow and succeed. Bruce P Frederick, CPA PC, is focused on improving our clients' personal and business financial performance through value added accounting services. We can provide complete financial and tax planning, compliance and management consulting, and other business services.
Whether your needs are simple or complex, we can help.
"We are available during normal business hours, which are 9:00 am to 5:30 pm, Monday through Friday. We would be happy to make special arrangements for evening or weekend consultations. When the circumstances warrant, we are available on an as-needed basis. If the situation is that important to you, it is important to us.
"For many years, we have had the pleasure of visiting with our clients in their place of business or their homes. If onsite meetings at your location are more convenient or conducive to conducting your business, please let us know.
"We are located off Kruse Way close to I-5 in the1 Centerpointe building"